ISET Economist Blog
Wanna Get Rich? Make Batumi Your "Second Home"!
Monday, 12 June, 2017
With 6.3 million tourists visiting the country in 2016, Georgia has become a popular tourist destination. In May, the number of international visitors (those who stayed in the country 24 hours or more) increased annually by 19% (compared to the same month in the previous year). While Tbilisi Airport is the main border-crossing point, in May, Batumi Airport overshot Kutaisi Airport, famous for its low costs flights, and experienced a 20% annual increase in the number of arrivals. The concert of legendary musical band "Aerosmith," which took place near Batumi, may be the main reason for the high increase in this particular month; however, an increase in arrivals was observed on a constant basis over the entire last year (see the graph).
An increasing number of new direct flights during the season, and the introduction of charter flights during off -season, as well as the governmental program "Check in Georgia," which subsidize concerts of well-known artists organized by municipalities or private companies, massive conferences, and all types of music festivals (for instance, the Annual Black Sea Jazz Festival), are all attracting more and more domestic and international tourists to the seaside destination of Georgia.
REAL ESTATE DEVELOPMENT
The city's readiness to receive increasing numbers of tourists is being helped by lengthening the boulevard and developing the real estate market. Developments in this market include increasing the number of hotels and commercial and residential properties.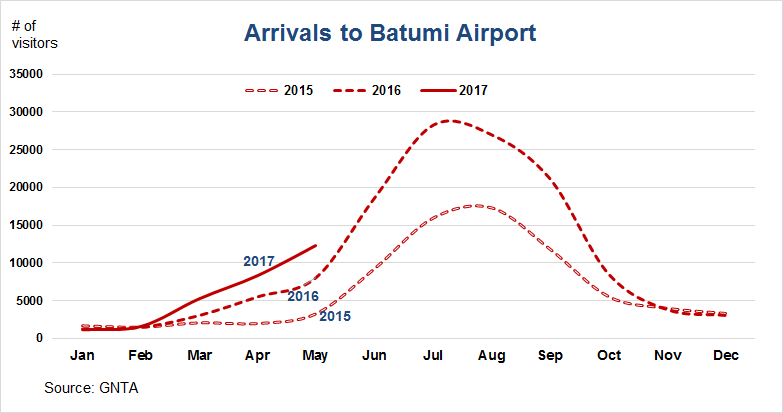 Statistics from the Georgian National Tourism Administration (GNTA) show that the upcoming pipeline of hotels for 2017-2018 is impressive and distinguished by such brands as: Design Rooms Hotel, Courtyard Marriot, Hotel Kempinski, Pullman Hotels & Resorts, and some other local and global brands. The number of residential properties growing fast, as well. The National Agency for Property Registry has observed an increasing trend in real estate sales in Batumi last years (see the graph). Usually, an increase in the number of transactions happens right prior the high-season (March- April), when construction companies are ready to deliver properties, and buyers are ready to enjoy upcoming season. This March, the number of transactions reached its historical maximum, 735 per month (20% increase compared to March, 2016).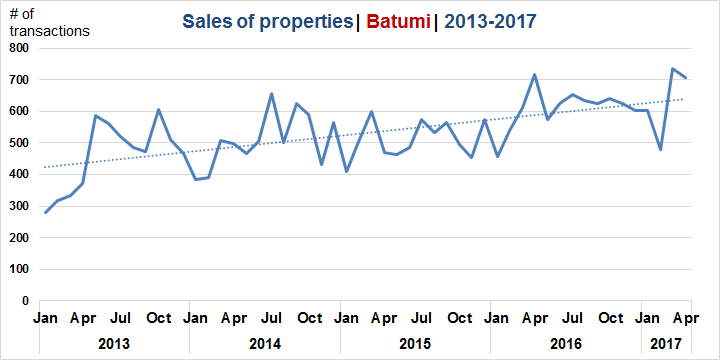 WHO BUYS THE PROPERTY?
Batumi is a city with quite a specific character, very lively and overcrowded with tourists at the height of the season (June-September,) and almost empty, with a lot of closed cafes and under occupied tourist accommodations during off-season. Thus, the acquisition of new property in such seasonal destination should have a good reason: either you move to this city for non-touristic business, or you invest to rent out properties during the season.
To investigate investment opportunities, we estimated the approximate rate of return on a residential property in Batumi. We used the following information: data from Booking.com on rental prices for residential properties in different seasons and days of week; average sales prices from Real Estate Market Laboratory (REM Lab); and, the tourist accommodation occupancy rate in Batumi for low budget economy class from Colliers International Report (2016).
Rate of return on residential property in Batumi: If you buy 50 square meters of residential property for USD 720 per square meter (in total USD 36 000), and rent it out for between USD 65-80 per night, assuming that the property will be occupied only 33% of the year, your annual return will be 22.8%.
22.8% is significantly high annual return, in comparison with the average of 10% in Europe. The capital of Georgia, Tbilisi, also offers an average 10% annual return on residential property1.
Such high returns can be attractive for local and foreign investors. Given the fact that Batumi is a very popular summer destination among neighboring countries as Azerbaijan, Armenia, Ukraine and Russia, it wouldn't be surprising to find out that properties are being bought by representatives of these countries.
BATUMI AS A "SECOND HOME"
There is a concept known as "residential tourism," which relates to the "economic activity focused on the development, construction and sale of housing that conforms to the extra-hotel sector, used by its owners as a holiday accommodation or residence, whether permanently or semi-permanently, away from their usual residence, responding to new forms of mobility in advances societies." (Tomás Mazón and Antonio Aledo). The term residential tourism was mentioned for the first time in academia in the 1950s, particularly in relation to "Sun and Sea" destinations of Spain, and other countries in the Mediterranean region. Sometimes residential tourism is also referred to as "second homes," "semi-migration," "summer migration," and "seasonal suburbanization" (Hall and Müller, 2004).
It is generally agreed that residential tourism consists of the purchasing of second homes, mainly by foreigners, for the purpose of leisure and consumption. In the case of Batumi, residential tourism can be understood as the purchasing of properties for purpose of leisure during some part of a season, and renting it out during the rest of a year. Without having official statistics on the nationalities of new residents, we can't state that Batumi has become a "second home" for foreigners or for locals. However, there is large potential for this sort of development. As literature on residential tourism discusses, there is a different economic impact from this type of tourism. New residents tend to visit "second homes" not only during the main vacation time, but for many other occasions, which contributes to the development of the city off-season as well.
Batumi has already opened its gates for this summer season, waiting for old friends and new visitors to enjoy the Black Sea, Adjarian food, and international music. Maybe some of them will decide to return with an investment and call Batumi their "second home".
---
1 In calculating the annual rate of return, monthly average rental price is used with the assumption that property will be rented out during the whole year. Data source: REM Lab
The views and analysis in this article belong solely to the author(s) and do not necessarily reflect the views of the international School of Economics at TSU (ISET) or ISET Policty Institute.