ISET Economist Blog
Food Prices are on Fire
Monday, 30 December, 2019
In November 2019, prices for food and non-alcoholic beverages, as measured by the Food Price Index (FPI), drastically increased by 13.4% compared to November 2018 and contributed 4.02 percentage points to the change in the total Consumer Price Index (CPI). In recent months, annual food inflation marked at its highest level since August 2011 (Figure 1).1
Figure 1: Annual Food Price Inflation (January 2010-November 2019)
Prices increased for all sub-categories of food and non-alcoholic beverages. The largest price increases were observed for fruits and grapes (30%), vegetables (16.2%), milk, cheese, and eggs (15.4%), fish (14.5%), and meat (13.1%). Starting from November 2018, products in the category of wheat bread and cereals have been, on average, trading above last year's prices and in November 2019, annual prices (November 2019 vs. November 2018) for products in this category increased by 11.9%.
Higher food prices affect people in different economies differently. While rich households are likely able to adjust their expenditures and deal with higher food prices, poorer households tend to be exposed to a greater risk of malnutrition, as food already takes up a large portion of their income. Similar to other developing countries, the average Georgian household tends to spend a big share of their consumption expenditure on food (43% in 2018). Obviously, recent increases in food prices (including staple food) mainly hurt food consumers, many of whom are relatively poor. Considering that the maximum amount of monthly social assistance per person is 60 GEL and the monthly subsistence minimum for an average consumer is 173.3 GEL, the most vulnerable part of the population, including the 20.1% of the population living under the absolute poverty line, will not be able to afford the subsistence minimum.
REASONS BEHIND INCREASED FOOD PRICES
Georgia is a net importer of food commodities, including primary commodities as well as processed food products, and more than half of the food products consumed in Georgia are imported (I.E.Meskhia). In 2018, the self-sufficiency ratio for meat is 52%, for vegetables – 59%, for wheat – 15%, and for poultry – 34%. Dependency on food imports makes food prices more vulnerable to fluctuations in the exchange rate, international prices, and oil prices. In addition, the political and economic situations in Georgia have increased uncertainty in the country, hit expectations, and put additional pressure on the exchange rate as well as on prices.
Depreciation of the Georgian Lari: The first and primary cause of the increase in prices of goods and services is the exchange rate. In recent months, Georgia's national currency has continued to depreciate against the US dollar (USD). In November 2019, the Georgian lari (GEL) depreciated against the US dollar and the exchange rate between the lari and the dollar reached 2.97 on average, which is 10% higher than the same month last year (November 2018). The depreciation of the Georgian lari put upward pressure on lari prices of imported food products, as well as on imported inputs (e.g. chemicals and fertilizers, fuel, milk powder, etc.). Figure 2 shows the dynamics of FPI and the monthly average US dollar to Georgian lari exchange rate. Obviously, the exchange rate is setting the pace for food price inflation.
Figure 2: Dynamics of FPI and USD to GEL Monthly Average Exchange Rate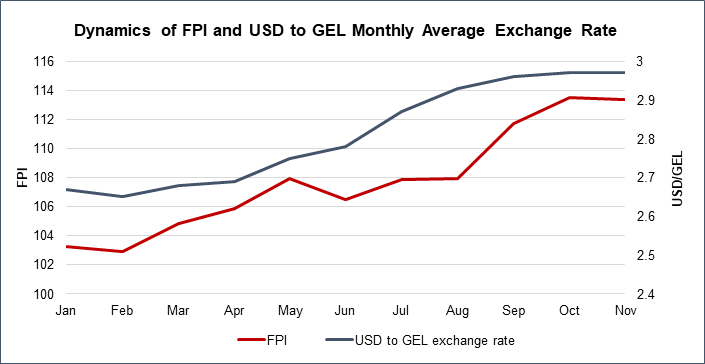 The movements of the exchange rate have an impact on the trade balance. The depreciation of the Georgian lari increased the country's balance of trade (exports minus imports) by improving the competitiveness of domestic goods in foreign markets while making foreign goods less competitive on the domestic market by becoming more expensive. According to the National Statistics Office of Georgia, the trade balance in January-November 2019 increased by 1.4%. In the same period, the value of exports increased by 11.7% and reached $3.38 billion, while imports decreased 2.3% and amounted to $8.12 billion.
Increased International Prices: Another factor that affects prices is international food prices. As mentioned, people in Georgia have a large share of imported food in their consumption basket, so a change in international food prices has a great impact on them. Some studies argue that world food prices are more volatile than the price of food produced in the domestic market (Vavra and Goodwin, 2005). Thus, world agricultural commodity markets have a great impact on the domestic prices of food products. According to the Food Price Index by the Food and Agriculture Organization (FAO), world food prices have been increasing since June 2019. In November 2019, world food prices marked their maximum this year; world prices have gone up by 9.5% compared to the same month last year (November 2018). The largest contributors were meat, dairy, sugar, and vegetable oil. It should be noted that the trends on international markets need time to be transmitted to local markets.
Increased Oil Prices: Higher oil prices increase the costs of transporting food through the steps from farm to table and, accordingly, affect the price of food. Oil prices not only increase transportation costs but affect farming as well: oil byproducts are a significant component in fertilizer and contribute 20% of the cost of raising grain.2 For example, high oil prices between 2001 and 2007 added 40% to the cost of growing corn, wheat, and soybeans. The recent hike in oil prices is also edging up food prices in Georgia.
WHAT GEORGIAN CONSUMERS SHOULD EXPECT
To conclude, the recent hike in food prices was mainly driven by the depreciation of the Georgian lari with respect to the US dollar, increased international food prices, and increased oil prices. There are two major factors that form expectations for the upcoming months:
Price Transmission from International Markets: Several months are needed for world prices to be reflected in domestic prices. The lengths of transmission differ by commodity. For example, according to ISET-PI's research, it requires seven months for prices to transmit from international wheat to Georgian flour prices. Accordingly, the upward trend on international prices might be transmitted to local markets a few months later and put upward pressure on local prices.
Interventions Made by the National Bank of Georgia (NBG): Since annual inflation measured by CPI has been far from its target for 2019-2021 (3%), NBG made immediate interventions throughout the recent months: it sold US dollars on the foreign exchange market and the obligations also nominated in lari. Aside from the short-term interventions, NBG has tightened monetary policy to achieve price stability in the upcoming months. Starting from the beginning of September 2019, NBG gradually increased the monetary policy rate (the refinancing rate) from 6.50 to 9.00, which is the highest indicator since November 2008. In addition, NBG decreased the minimum reserve requirement in foreign currency from 30% to 25%. NBG used all its monetary instruments to fight inflation. While some of these interventions had immediate results, the increased monetary rate will need around 6 months to have a noticeable impact and put downward pressure on prices including food prices.
It should be noted that the interventions made by the NBG will not primarily have a direct impact on food prices. Most probably, prices will surge across key food commodities due to the holiday-related slump in demand, and they will remain on an upward trend due to winter shortages in supply. Georgian consumers should be prepared for their grocery bills to skyrocket in the coming months.
---
1 It is worth noting that in 2011, food prices were particularly high; mainly reflecting the global food crisis of 2011
2 https://www.thebalance.com/why-are-food-prices-rising-causes-of-food-price-inflation-3306099
The views and analysis in this article belong solely to the author(s) and do not necessarily reflect the views of the international School of Economics at TSU (ISET) or ISET Policty Institute.