Indexes
May 31, 2017 FPI | Is Georgia's Tomato Business Rotten?!
31 May 2017
By the end of May, ISET's Retail Food Price Index increased by 5.5% y/y (compared to May 2016); on a monthly basis (compared to April 2017), retail food prices slightly decreased, by 0.4%. The largest bi-weekly price changes were recorded for seasonal food products such as fresh fruit and vegetables. Prices dropped the most for tomatoes (-28%), garlic (-21%), and cucumber (-8.3%). Prices increased the most for cabbage (23.3%), potatoes (17.7%), and greens (14.3%).
IN THE SPOTLIGHT: TOMATOES
Compared to the previous month, tomatoes became cheaper: the average price of 1 kg of tomatoes went down, from 3.65GEL to 3.34GEL. While price declines in the fresh produce category are always expected at this time of the year, tomatoes are also trading below last year's prices.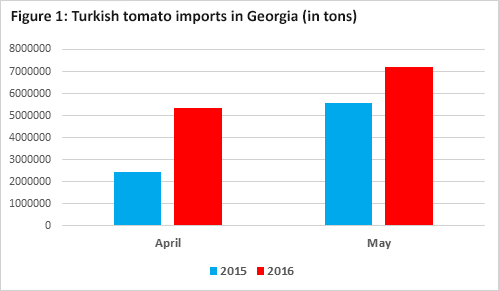 The first factor worth noting is that Russia placed limits on Turkish imports in December 2015. Before the sanctions, Turkish tomatoes accounted for around 50% of the tomatoes consumed in Russia. Suffering from Russia's wrath over Turkish products, tomato (one of the main Turkish agricultural export products) producers in Turkey shifted their supply to other markets, including Georgia. As a result, Turkish tomato imports almost doubled in April-May 2016 (compared to April-May 2015).
But the story does not stop there. Recently, Russia agreed to lift some trade sanctions against Turkey, but the tomato ban still stayed in place. Russian Prime Minister Dmitry Medvedev explained that Russia has made major investments in local tomato production, and therefore the country wants to "preserve investments made in the sector that should not come to nothing.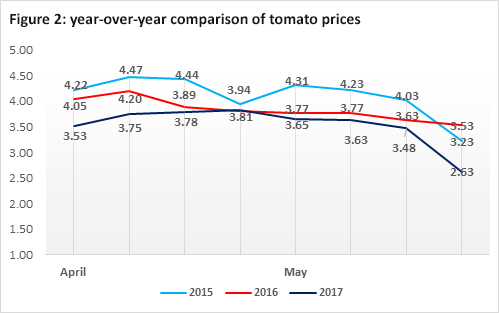 Returning to Georgia's retail markets, this year tomatoes are even cheaper than they were last year (figure2). While Georgian consumers can take advantage of cheaper tomatoes, this is not good news for Georgian tomato producers. They might not be ready to compete with cheaper Turkish tomatoes unless they differentiate their product quality.