ISET Economist Blog
Agritourism in Georgia
Monday, 28 September, 2020
Imagine spending some time in the countryside away from the noisy, dusty city, getting involved in agricultural activities, and discovering the local culture. This kind of tourism is called agritourism.
According to the World Tourism Organization's data, tourist options in rural areas are increasing. According to specialists, this tendency is caused by middle-aged people's interest in spending their vacations in a quiet environment with less air pollution. This kind of tourism is financially more available and particularly suited to short vacations because of rural areas' proximity to cities.
The development of agritourism in Europe began in the 1960s in the Tuscany region of Italy. In 1985, the government of Italy developed a law on agritourism, which indicated the renewal of abandoned buildings and houses in villages. This law created new opportunities for those whose main source of income was agricultural activities. Agritourism reinvigorated different regions of the country. Tourists could unwind surrounded by vineyards, olive plantations, or other traditional and unique Italian products.
OPPORTUNITIES AND CHALLENGES FOR AGRITOURISM DEVELOPMENT
The development of agritourism is associated with the following economic, social, and environmental benefits:
• Economic benefits: tourist services are labor-intensive and their development improves income distribution. Agritourism development begins with local residents' initiatives and the revenues from services go directly to host families and the community. For family farms, the main economic benefits come from increasing the total income of the farm, cash inflow, and the creation of employment opportunities for family members.
• Social and ecological benefits: conversion of farms into tourist facilities improves the quality of social life. The improvement of social status is not a separate benefit, it connects the ecological value of agritourism with its economic value and offers locals improved quality of life. It is worth noting that tourism does not have as negative an impact on the environment as other industries.
• Benefits in the context of creative economics: the development of agritourism can be considered in the context of the creative economy, which implies the creation of value-added products and services at the expense of more creative ideas rather than large investments. By engaging in rural activities, tourists share living and intangible cultural values with locals instead of experiencing only static, tangible cultural heritage sites. This helps tourists develop their creative skills and potential.
CHALLENGES RELATED TO AGRITOURISM
• Loss of rural appearance: increasing tourist flows may lead to the demolition of traditional houses and farms and their replacement with modern structures designed to accommodate large numbers of tourists and provide services.
• Negative effect on the environment: most agritourism facilities are located away from main roads in places that are difficult for tourists to reach. The increased flow of tourists in such areas has a negative impact on the environment.
• Organizational capabilities: the organizational capacity of agritourism facilities is often limited as it is mainly a farm-based activity, which is why such facilities might not be able to provide proper services to tourists.
Since 2019, the Agrarian Issues Committee of the Parliament of Georgia has been actively working on a draft law on agritourism. The main goal of the draft law is to strengthen the capacity of Georgia's rural population, increase their economic inclusion and incomes, and promote employment. It should be noted that despite the lack of a legal framework, several agritourism facilities are already operating in Georgia. According to the Ministry of Environmental Protection and Agriculture of Georgia, 16 farms offer overnight stay and agritourism services to tourists. These services include participation in rtveli, the grape harvest, and celebration, making churchkhela, a traditional Georgian candy from nuts and grape juice, and cheese- and winemaking demonstrations. In addition, another 130 enterprises are interested in offering agritourism services to vacationers. 22% (29) of them are located in Imereti, 15% (19), and 13% (17) in the Racha-Lechkhumi and Kvemo Svaneti region and in Guria, respectively (see Figure 1).
Figure 1. Number of enterprises interested in agritourism by region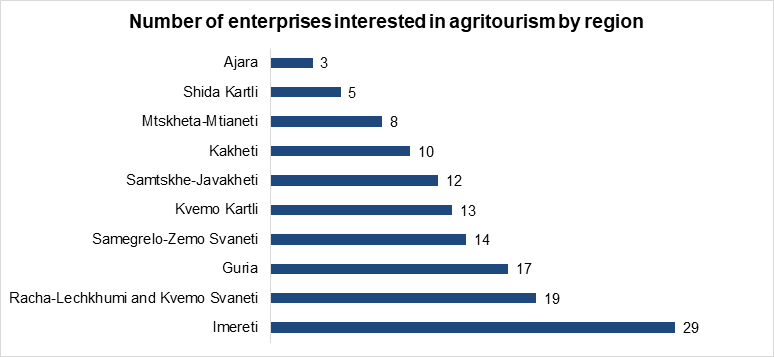 However, official statistics on the number of agritourism facilities are not available. General information about registered tourist facilities, which obviously contain agritourism facilities and enterprises interested in agritourism, is presented below:
Table 1. Number of accommodation facilities by type
| | | | |
| --- | --- | --- | --- |
| Category | Number of facilities | Number of rooms | Number of beds |
| Hotel | 1,062 | 29,405 | 66,834 |
| Family hotel | 1,017 | 6,759 | 17,904 |
| Guesthouse | 431 | 3,144 | 8,499 |
| Other | 197 | 2,906 | 8,049 |
Source: Georgian National Tourism Administration, 2020
Most of the agritourism facilities are relatively small and concentrated in the segment of family hotels and guesthouses.
AGRITOURISM FOR RURAL DEVELOPMENT
The role of the tourism sector in the Georgian economy is becoming increasingly important. Its share of GDP in 2019 was 14.5%. In 2019, 5 million tourists visited Georgia, which is double the number from 2012 (GNTA, 2020). As the number of tourists increases, tourism products also become more diverse. Agritourism is no exception.
The rich cultural and agrarian heritage of the country, diverse traditions, rural life, and local products are a good base for the development of agritourism. Each region is distinguished by its own unique customs and peculiarities of agricultural production.
The COVID-19 pandemic further highlighted the importance of local tourism, especially agritourism. The closure of borders and the suspension of international traffic most severely affected the tourism sector and its employees. The development of agritourism can become a source of additional income for the rural population.
Improving the incomes and living standards of the rural population through agritourism requires the formation of an agritourism services market, which includes:
• Developed infrastructure (sewerage; water supply, especially in eastern Georgia; waste management, particularly in populated areas as well as in areas remote from municipalities; roads; land registration; natural gas; and electricity supply);
• Adherence to safety standards (tourist physical safety, food safety);
• Existence of a unified database of agritourism facilities In Georgia to enable tourists to discover existing facilities and select the one they desire;
• Strengthening the capacity of employers in agritourism facilities.
Implementation of these measures will contribute to the development of agritourism, which, in turn, will revive many abandoned villages.
The views and analysis in this article belong solely to the author(s) and do not necessarily reflect the views of the international School of Economics at TSU (ISET) or ISET Policty Institute.