Indexes
February 15, 2016, FPI | ISET Retail Food Price Index
19 January 2016
Georgian Consumers Emerge Victorious From The Russian-Turkish Spat
The Russian ban on Turkish goods turns out to be a boon for Georgian consumers. As Turkey is shifting its surpluses to the Georgian market, the prices of fruits and veggies are plummeting.
At the same time, given that some of the imported goods are substituting for local equivalents (e.g. the tasty "Dighmis" tomatoes), the fact that Turkish businesses are able to dump their products in Georgia is no fun for domestic producers, particularly those among them who have recently borrowed (in hard currency) in order to invest in modern greenhouse technologies. To the extent that the Georgian market remains unprotected, the most vulnerable among these producers may simply go out of business.
FPI Reverses Trend after Reaching an All-Time Maximum in January 2016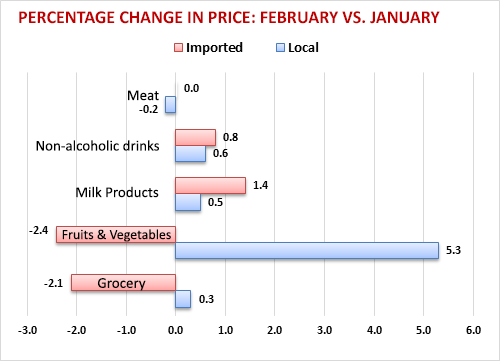 Considering all other food categories, FPI increased by 2.6% y-o-y (compared to February 2015). However, in monthly terms (m-o-m), it's down 0.6% after hitting a maximum in January. This is remarkable given that during this period the Georgian Lari took another hit (since early January 2016, GEL depreciated by 3.5%, from 2.39 GEL/USD to 2.48 GEL/USD).
In monthly terms, prices decreased the most for imported and local tomatoes (by 19.7% on average). Buckwheat and eggplant prices are also down by 10.9% and 10.8%. Only a few products gained at price: cabbage is up 4.7%; pasta and butter prices increased by 3.9% and 3.1%, respectively.
Given the pressure on the Georgian Lari, one could have expected the prices of imported goods to increase. Yet, this is not happening. Import prices actually declined in two food categories – fruits & vegetables, and groceries (cereals, wheat flour, pasta, sugar, and oils). In addition to the Turkish factor, import prices may be declining because Georgia's main trade partner countries may also be experiencing currency devaluations.