Indexes
October 15, 2017 FPI | Shall We Expect a Cold and Expensive Winter?
16 October 2017
In the first half of October, food prices in Tbilisi's major supermarkets increased by 10.8% compared to October 2017. On a monthly basis (that is, compared to September 2017), ISET's Retail Food Price Index increased slightly by 1.7%. On a biweekly basis, most of the prices increased, leading to a higher Retail FPI. The largest bi-weekly price changes were recorded for seasonal food products such as fresh fruit and vegetables. Prices increased the most for cucumbers (51%), eggplants (43%), and peaches (22%). Carrots (4%), sugar (3%), and pasta (1%) showed the biggest price drops.
PRICES OF FOOD CATEGORIES IN MORE DETAILS
Tbilisi's retail markets experienced significant annual price increases in all five food categories comprising the Retail FPI: fruits and vegetables (2.0%), grocery (2.5%), non-alcoholic beverages (6.6%), meat (9.2%), and dairy products (13.1%).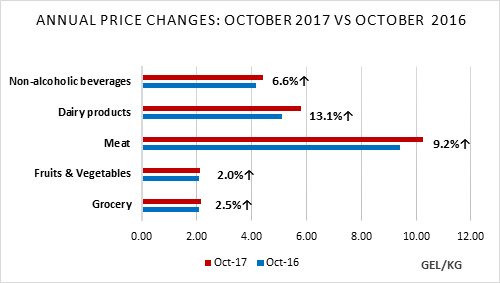 The most drastic price increases were observed for dairy products. One explanation might be the changes in regulations undertaken because of the Association Agreement (AA) between the EU and Georgia. Following stricter food safety regulations, on July 1st, 2017, the technical regulations for the dairy sector came into force. In addition, the recent spike in international prices might also have put additional upward pressure on prices in the dairy sector. According to the FAO's latest data on their Dairy Price Index, dairy prices increased by 27.4% on an annual basis, reflecting supply constraints in the EU, Australia, and New Zealand.
Georgian consumers may be even more concerned about food prices, as the Georgian lari is experiencing depreciation: in October, the exchange rate between the Georgian lari and the U.S. dollar moved up from 2.36 GEL/USD to 2.48 GEL/USD, compared to the corresponding time period last year. Since Georgia is a net importer of food commodities, one might expect further price increases, especially if international trends are maintained in the future. Food spikes in early October might signal hard times for Georgian consumers in winter.