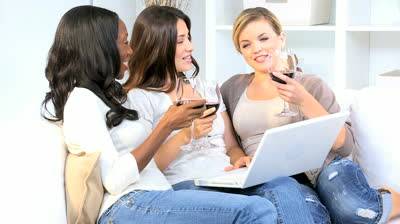 If you follow modern Georgian electronic media, you have definitely noticed a strange tendency of publishing news pieces based on people's posts and status updates on Facebook. Besides Georgian journalists' determination to free ride, this points to the fact that Facebook has become an important platform to express one's opinion on political and social issues. In fact, a recent Pew Internet & American Life Project study finds that 37% of electronic social network users post political material at least occasionally and that 75% of social networking site users are exposed to the political content posted by their friends. And this in the United States where political involvement of general public is low. I expect the same measures being significantly higher in Georgia, especially in light of current political shifts.
Facebook has indeed become the venue of heated debates on important topics in Georgia. An appealing feature of such electronic mass venues is that everybody can participate and potentially influence many others' opinion. My posts are seen by my friends, their comments and shares guarantee some visibility among their friends etc. However, not every person gets an equal opportunity to influence public opinion. Some people have few friends, others maintain large number of social contacts. Even within the group of people with same number of friends, the type of users to whom a person is connected – matters.
This has been recognized internationally and many have started analyzing data from social networking sites in order to answer vast array of questions. However, the study of Facebook user behavior in Georgia has been absent. That is until today. A recent research report represents the first attempt to dissect the characteristics and behavior of Georgian Facebook users. It analyzes the data on some 2589 Georgian users of Facebook that we collected in January 2011.
The report raises several important issues, including the issue of personal data security that is amplified by the carelessness of Georgian Facebook users, and draws a number of relevant conclusions. However, a part of the findings that I would like to focus on here concerns the profiles of the most influential Georgian Facebook users.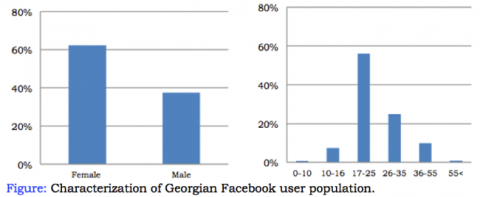 The figure above characterizes gender and age profiles of Georgian user population. This corresponds very well to the user profiles in other countries, notably to those in the United States. Performing a bivariate split by gender and age reveals that a single most numerous group of Facebook users in Georgia is this: females between 17 and 25 years of age. Young females comprise 35% of total users.
Besides being the most numerous, the members of this group seem to be strategically located within the Georgian Facebook network. Table below demonstrates the contrast between the general Georgian user population and young females. All the differences are statistically significant. The first two columns report on the difference in number of friends. Young females possess 18.5% more friends globally, and 16.5% more friends locally, compared to an average Georgian user. This means that young females can pass the information onto a large number of users.

The third column reports on a characteristic that measures the importance of the user in terms of facilitating information exchange among other users. Also in this respect young females seem to be holding key positions. They improve upon the average Georgian user by 30% in terms of the ability to control information flows within Georgian Facebook.
The conclusion is that young females occupy key positions on Georgian Facebook. But can (do) they use their power? The answer is – Yes! A small exercise that we have conducted, which invited users to influence others, resulted in high share of young female influencers. Young females comprised 42% of influencer population, which is significantly higher than their share in general Facebook population (35%).
Through the same exercise, we have also found that older users are more likely to be influenced by younger users than the other way around. This just puts the importance of student movements in Georgian politics in a wider prospective.