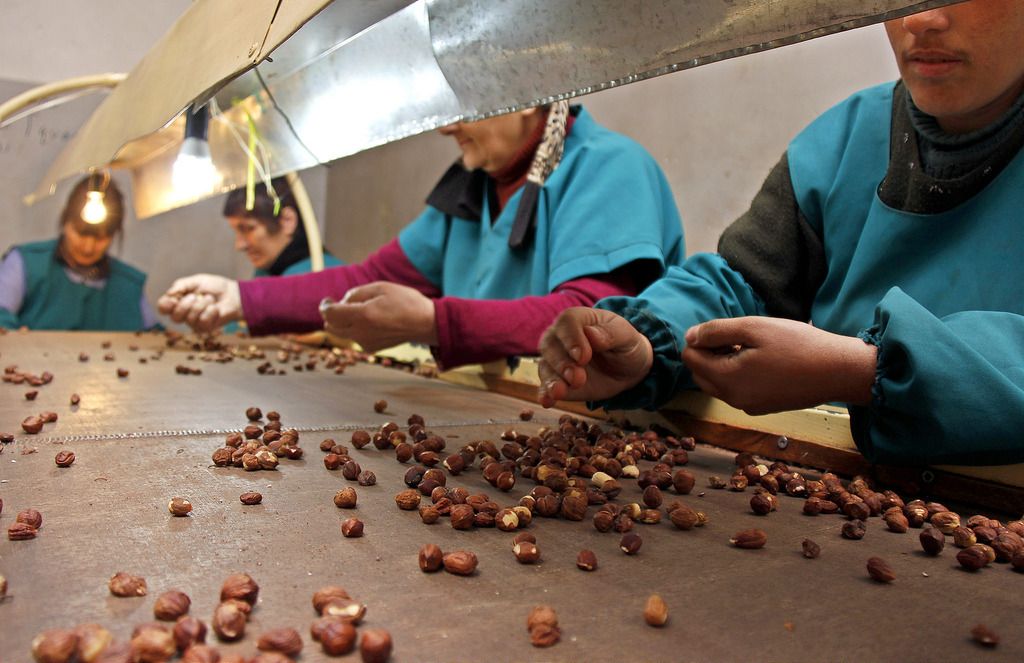 "I cannot see any use [for the cooperative I have set up] if I cannot find anywhere [someone] willing to lend us money" Spanish Priest – 1908 (Cited in Garrido, S. 20071)

THE GEORGIAN AGRICULTURAL SECTOR AND THE POTENTIAL ROLE OF AGRICULTURAL COOPERATIVES
The Republic of Georgia was among the fastest Former Soviet Union countries to implement a large scale land reform and land redistribution plan, starting in 1992. Land redistribution resulted in the formation of hundreds of thousands of small family farms, replacing large-scale collectives and production cooperatives (Sovkhozez and Kolkhozes). The main purpose of this land individualization process was, arguably, to help a large part of the population survive extremely hard times. The goal was achieved, and the Republic of Georgia managed to contain the drop in agricultural output in a period in which it experienced one of the sharpest declines in economic activity in recent history, with GDP per capita falling by more than 70 percent between 1990 and 1994.
Today, however, the Georgian agricultural sector is perceived more as a missed opportunity than a success story. While employment in agriculture still absorbs 47% of the employed (2015 data, Geostat), the share of agricultural output in total GDP is now down to 9.2%, much smaller than it could be. Land fragmentation is always indicated as one of the main culprits of the low productivity characterizing Georgian agriculture. According to the census conducted by the Ministry of Agriculture in 2014, there are 574.1 thousand agricultural holdings (with land) in Georgia, of which 99.6% are held by households (with the average farm size of 1.2 ha).
Small average farm size, however, does not necessarily imply low productivity. Around the world, small farms have been found to be highly productive (sometimes more so than larger ones). Small farms, however, need a supportive environment to flourish, even more so than larger ones. In particular, small farmers are hampered when – as is the case in Georgia – access to credit, marketing and technology is limited.
The development of agricultural cooperatives has been identified by both international donors and the Georgian government as a promising way to encourage the development of the Georgian agricultural sector. The potential advantages for small farmers joining a cooperative are numerous. By pooling their resources, small farmers can gain better access to credit markets, better physical capital, achieve economies of scale, and improve their bargaining power in the value chain.
However, Georgian farmers seemed historically reluctant to spontaneously aggregate into cooperatives. Among the main reasons identified by those who studied the issue a few years ago was the lack of trust in such institutions, associated by most farmers with the Soviet Kolkhozes. Another reason was the lack of a coherent legislative framework regulating agricultural cooperatives.

ENCOURAGING THE BIRTH AND DEVELOPMENT OF AGRICULTURAL COOPERATIVES: A BOLD START
This was taken into account by the European Union when it designed a special project - European Neighborhood Programme for Agriculture and Rural Development (ENPARD) – aimed at fostering agriculture cooperative development in Georgia during from 2013-2017. With the support of ENPARD, the government of Georgia elaborated the Law on Agricultural Cooperatives (July, 2013) and established the Agricultural Cooperative Development Agency (ACDA) under the Ministry of Agriculture to support the development of agricultural cooperatives throughout the country. Since March 2014, when the first agricultural cooperative was officially registered by ACDA, more than 1600 agricultural cooperatives have been registered, exceeding initial expectations.
Both ENPARD and the government have worked quite hard to support the newborn cooperatives. Since early 2014, ENPARD selected and assisted about 250 cooperatives, with a total budget invested (by ENPARD) of GEL 11.3 million (Annual Cooperative Survey, 2016). ENPARD assistance took a number of forms, such as support for the purchase and installation of machinery and equipment, training, support of the creation of linkages with input and output markets, etc.
Over the same period (from 2014 to-date), ACDA introduced several supporting programs for cooperatives, such as: a) a state program fostering hazelnut production development through promotion of agricultural cooperation; b) a state program to support beekeeping agricultural co-operatives; c) a state program to support dairy production agricultural co-operatives; and d) a co-financing program for purchasing agricultural machinery for cooperatives. In total, ACDA has spent GEL 6 million on these programs (ACDA, 2016).
Theoretically, cooperatives could also benefit from other public support programs targeting the agricultural sector (such as "Plant the Future," "Cheap Loans," "Produce in Georgia," "Georgian Tea," etc.) but in reality very few did, as the programs were not tailored to the specific needs of cooperatives. This reduced both the potential benefits from participation and the probability of qualifying for support.

…AND A LESS BOLD FOLLOW UP
Just a few years after the introduction of the Law on Agricultural Cooperatives and the related initiatives to encourage their birth and development, the government drive to support agricultural cooperatives seems to have lost its momentum.
About a month ago, the government issued the first draft of the state budget for 2017. According to the published document, the Ministry of Agriculture's budget will decrease by 25% compared to the last year. ACDA's funds are expected to decrease by 26% (GEL 1.9 million). This means that, unless the Government changes its announced plans, ACDA will find itself with significantly less funding to support the birth and development of agricultural cooperatives at exactly the same time as its responsibility for cooperative support increases (ENPARD will end next year).
In practice, cooperatives are going to experience a quite remarkable and sudden reduction in the amount of support they could have hoped for. This may not be a problem, if market conditions allow agricultural cooperatives to cope with the challenges they are facing (mostly) on their own. But … is this the case?

CHALLENGES STILL FACED BY AGRICULTURAL COOPERATIVES
The ENPARD implementer community, working closely with the supported cooperatives, is highly skeptical. According to them, even the already established cooperatives are still in the embryonic stage of development (including ENPARD-supported cooperatives, which are considered to be relatively better positioned than others), and market support services are still underdeveloped. This implies that most cooperatives may not survive without additional financial and technical support for at least a couple more years.
A recent survey (self-assessment) conducted among one hundred cooperatives supported by ENPARD (Figure 1) confirms that there are still a number of critical factors constraining their business development, ranging from access to credit and capital to access to markets, to government regulation, difficult access to inputs and to information. In particular, the top constraints for business development seem to be "Access to Finance/Credits" and "Access to Capital."
Figure 1. Constraints to the Development of Cooperatives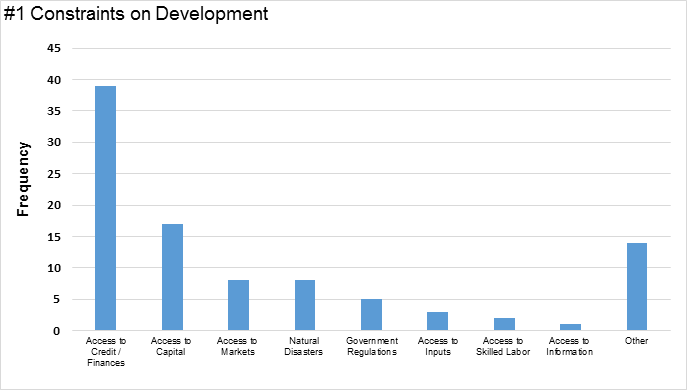 TO CUT OR NOT TO CUT (AND WHERE)?
Now, to the main question. Does it make sense for the Georgian government to cut the ACDA budget? As often happens, giving an answer to this question is not easy. On one hand, it is not clear where the saved resources will be spent, which makes the assessment of expected benefits of such a cut extremely difficult. On the other hand, the costs associated with these cuts are anticipated to be high. In other experiences (such as the Spanish one, to which our quote refers) insufficient support for young cooperatives resulted in setbacks and in the delay - lasting decades - of the development of the whole cooperative movement and, arguably, of the entire agricultural sector.
This is something no one wishes for Georgia. This is why policy makers should think very carefully about whether to cut or not, how much to cut and where, even in a moment of shifting political priorities. At the very least, even if the need to cut ACDA funds was to be confirmed, particular attention should be given to ensure that the remaining resources are spent, after a thorough analysis of cooperatives' needs, on the most needed support activities. This means, if the results of the survey results presented above are confirmed, to start with helping cooperatives getting better access to finance and capital.
| | |
| --- | --- |
| | The article was produced with the assistance of the European Union through its European Neighbourhood Programme for Agriculture and Rural Development, Austrian Development Cooperation, CARE Austria or CARE International in the Caucasus. The contents are the sole responsibility of the authors and can in no way be taken to reflect the views of the European Union, Austrian Development Cooperation, CARE Austria or CARE International in the Caucasus. |
1 Garrido, Samuel (2007). "Why Did Most Cooperatives Fail? Spanish Agricultural Cooperation in the Early Twentieth Century." Rural History, 18(2): 183-200.
---