According to the AGRIndex, in March 2017, agriculture product prices stayed practically unchanged — month-to-month, the AGRIndex was just +0.63% (see Graph#1). On the sub-index level, VEGETABLE prices displayed a seasonal pattern and declined m/m by -2.77% after seven months of increases. The same happened with DAIRY products, the prices of which dropped by -3.32% in m/m terms. On the other hand, FRUIT prices increased m/m by +4.23%, while growing MEAT exports drove prices up m/m by +2.64% in March 2017.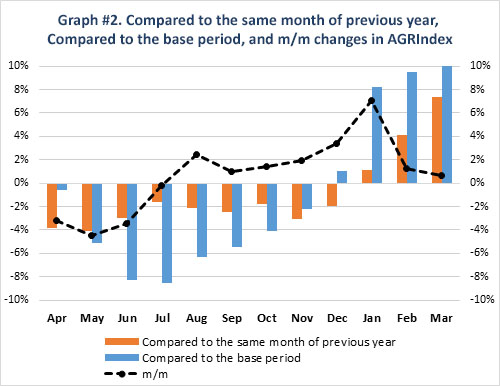 Data source: Ministry of Agriculture of Georgia

HIGHLIGHTS
Highest increase in March 2017: The main drivers of the increase in FRUIT prices were citrus fruits. The harvest season for citrus was already over in March, but because summer fruits were not available yet, the demand for mandarins, oranges and lemons was relatively stronger than their supply, and pushed prices for each of them up by more than 10%.
Highest drop in March 2017: Dairy products prices decreased the most on the whole, but the prices of some VEGETABLES showed the sharpest drop — cilantro, dill, parsley and lettuce prices decreased almost by 40% in March.
In year-to-year terms, the pcice of the basket that the AGRIndex tracks was up by 7.32% in March 2017, compared to March 2016. Compared to the average value of the base period (the first 12 months of price collecting process), the price of the same basket increased by 10.20% (see Graph #3).
AGRIndex Recent Publications